Rose Quartz Crystal...
Resonates Loving Energy
Rose Quartz Crystal is a quartz crystal that derives its name from its lovely rose pink color. These crystals come in a range of beautiful shades of pink.
It is known as the 'love stone' as the message it emits is the strong vibration of unconditional love, joy, warmth and healing.
This beautiful pink crystal has a powerful energy that resonates within both the heart chakra and the higher heart chakra, or thymus chakra. This stone will also resonate out the love energy into its surrounds... and aid all those nearby, such as your nearest and dearest.
Not only will it assist you with healing yourself but its energy may bring faith and hope to all in the vicinity... and this energy is well known for its action to stimulate romance in your life.
As quartz crystals are profound amplifiers of energy, it may help to kindle happiness, love,romantic feelings and sensuality.
CRYSTAL MEANINGS AND METAPHYSICAL PROPERTIES LORE OF ROSE QUARTZ
Keywords:

Love
Rose quartz is pink quartz that is often called the "Love Stone." It is a stone of unconditional love that opens the heart chakra to all forms of love: self-love, family love, platonic love, and romantic love. The high energy of quartz gives rose quartz the property of enhancing love in virtually any situation. In turn, this lowers stress. All in all it is a very soothing and happy stone.
Emotionally rose quartz brings gentleness, forgiveness, compassion, kindness and tolerance. It raises one's self-esteem and sense of self-worth. It helps balance emotions and heal emotional wounds and traumas, even grief, bringing peace and calm. Rose quartz removes fears, resentments and anger. It can also heal and release childhood traumas, neglect, and lack of love, in part by enhancing inner awareness. It can help with reconciliation with family and others. Overwhelming or unreasonable guilt is eased by rose quartz.
In the psychic and spiritual realms, rose quartz is often used to attract love, and for love spells. It is also used to ease the process of transition in dying. Rose quartz can be helpful for dream recall and dream work.
Physically rose quartz is used in crystal healing to benefit the heart, the circulatory system, fertility, headaches, kidney disease, migraines, sexual dysfunction, sinus problems, throat problems, depression, addictions, ear aches, slowing signs of aging, reducing wrinkles, spleen problems, fibromyalgia, and reaching one's ideal weight / weight loss. Rose quartz is also helpful and protective during pregnancy and with childbirth. It is also sometimes said that rose quartz is helpful for supporting brain functions and increasing intellect.
Rose quartz is associated with the heart charka
Wearing Rose Quartz
This lovely pink stone vibrates strongly within the heart chakra and the higher heart chakra... and as the vibration of the heart chakra is all about the concept of 'loving' you can understand why this would be powerful to have close to you.
This concept is about love not only on the physical level but on the deeper emotional and spiritual levels, and so it is powerul to use as one of the ways to relieve stress, tension, resentment and anxiety.
Rose quartz crystals have a loving vibration that is a powerful energy to help heal relationship problems. These are also lovely stones to wear. I love these lovely pink stones... not only for their physical beauty... but for the emotional healing they will bring to the wearer.
If you are able to obtain one of the beautiful rose quartz gemstones, you will appreciate the quality of this lovely stone.
Wearing Rose Quartz jewelry
or holding a piece of Rose Quartz in your hand, will bestow a peaceful and calming sensation that can assist in healing of the heart... by dissolving anger and resentment.
In these stressful days we live in many of us are in need of emotional healing.
Wearing
Rose Quartz crystal jewelry
... such as earrings, pendants or rings made from natural stones is very powerful, as this is a crystal with strong metaphysical properties.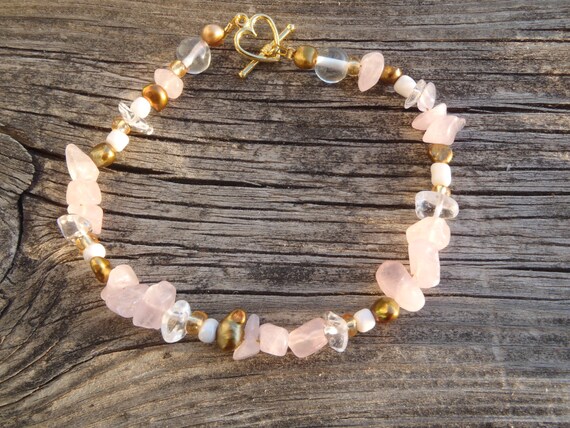 more to come on this wonderful stone